Illuminate your ideas, mute the noise and create aesthetic and comfortable environments
Global solutions fitting your needs
Discover the different areas that we have integrated in our stand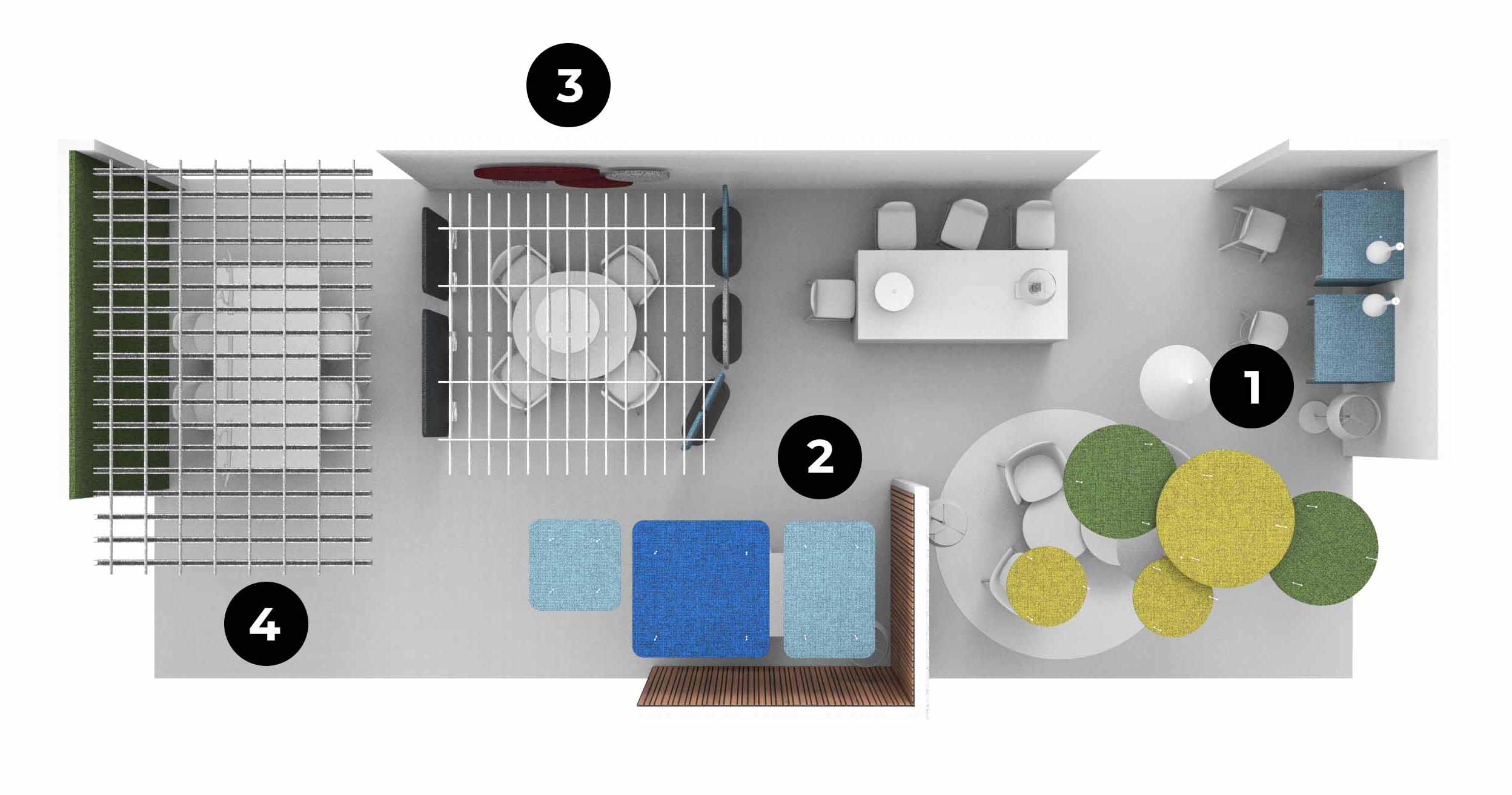 Design, comfort, and silence all in one place
Unique and functional experiences in costumized contract and residential projects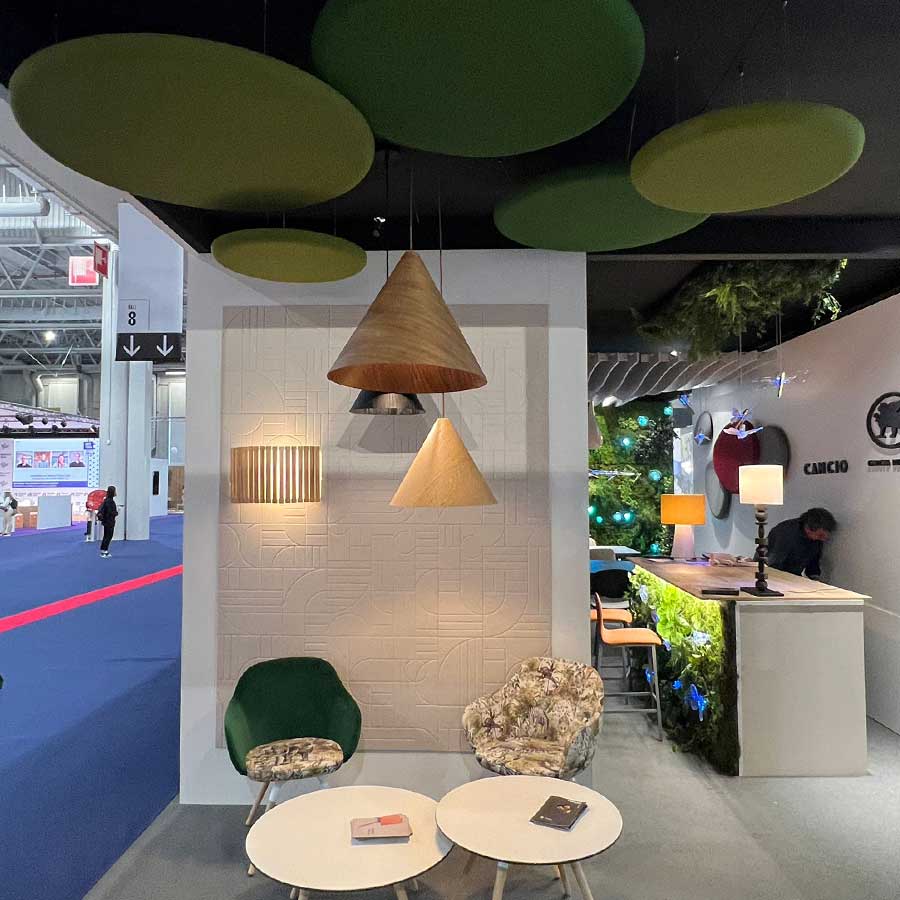 1
Lobby entrance
In this first area, we have designed a small lobby or lounge where our acoustic ceiling and wall solutions are integrated, along with wooden-finished luminaires and armchairs with a natural pattern, creating a sphere of tranquility.
On the wall, you'll find our PET acoustic panel in Bauhaus style, which seamlessly blends into the space. Meanwhile, on the ceiling, we have incorporated circular acoustic islands that absorb noise, creating a noise-free environment.
In a more secluded area, you'll find our open-wall acoustic booths arranged at various heights, allowing for both standing and seated work and improving accessibility for everyone.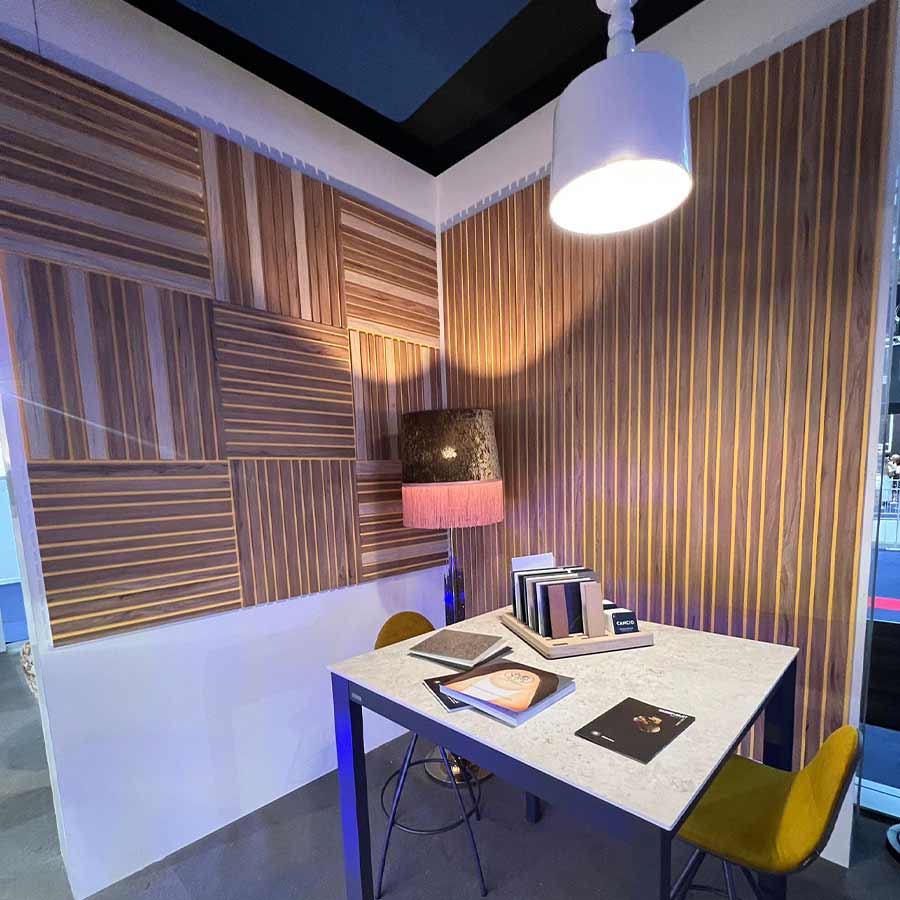 2
Bar zone
In this second area, next to the central bar of the booth, there is a cozy zone with high tables and stools, reminiscent of a bar setting.
In this setting, we have integrated rounded sound-absorbing islands and our acoustic paneling made of wooden slats, Linepanel, with a unique design that complements this corner.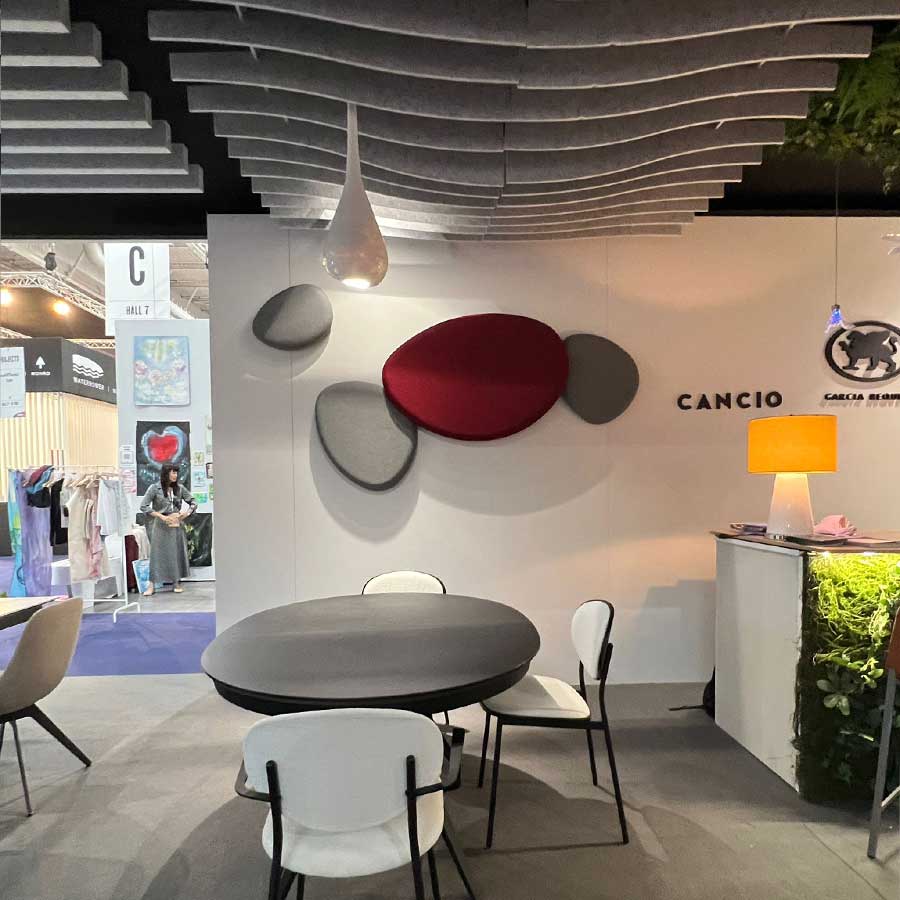 3
Reserved area
Inside the booth, we have created a reserved area for having more private conversations in a comfortable environment, thanks to the acoustic conditioning provided by various sound-absorbing elements.
On one side, our spinning acoustic dividers allow you to open or close the space according to the needs of the moment, while the organic-shaped acoustic mosaics complement the design of the rounded furniture. All of this is complemented by the Belly PET acoustic ceiling, with a wavy shape, created from recycled plastic bottles.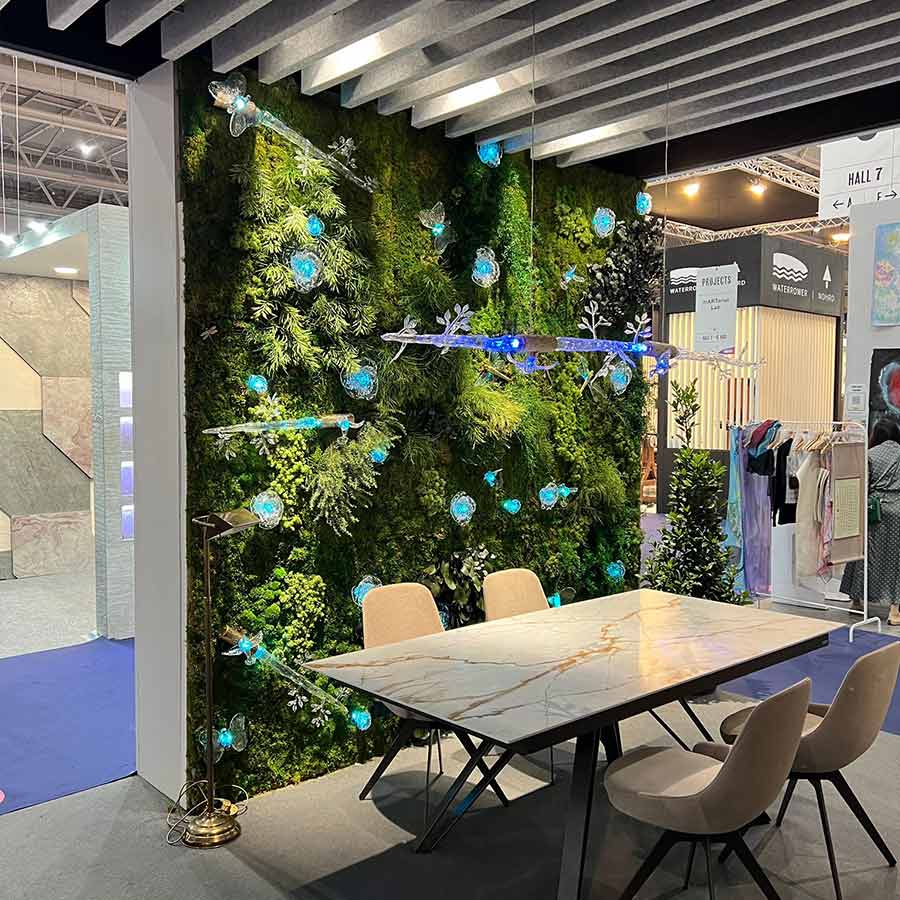 4
Meeting area
In this final area, we have created a larger and more private meeting zone; where our upholstered acoustic dividers help to divide the space.
On the ceiling, you'll find Luxineco, our modular system made from recycled PET, designed to create an elegant continuous design that reduces reverberation in the space.
Design, light and acoustics: an experience for your senses
A collaborative stand thanks to the ICE and the Junta de Castilla y Leon
Thanks to the European Regional Development Fund, Europe is driving our growth in collaboration with the Junta de Castilla y León and the Institute for Business Competitiveness (ICE), creating a rewarding synergy with two leading companies in the habitat and contract sector in our autonomous community: García Requejo and Cancio.
García Requejo specializes in custom lighting and furniture for contract projects around the world since 1962; while CANCIO is a family-owned company founded in 1959, specialized in the production of tables, chairs, and stools.
Together, the three companies offer personalized solutions to provide comfort and well-being to each space comprehensively. We create habitable spaces with special attention to design, where lighting, furniture, and acoustics converge in perfect harmony.
We shape environments that combine style and comfort, offering unique and functional experiences in customized contract and residential projects.